20050716:

New York, almost to Canada, Vermont, and New Hampshire

In spite of my coughing fit from 4:00-5:30, I feel better, although weak this morning.
We checked out of The North Pole Motel and Campground and stopped across the street at Rosalia's for brunch.
Good cell signal & Saturday rates, so we checked our messages. I'd accidentally left myself a long road noise message near Princeton! I've known about it for a few days, but waited until I had good signal and spare minutes because I have to listen to the whole thing before it let me delete it.
I'm well enough to drive, almost. So I did a few short shifts.
It was a hazy day, not well suited to taking pictures.

(In case you want to follow along on a map) We headed east on NY 86 to US 9N, out of the official "blue line" around the Adirondack State Park. North on I-86 to the last U.S. exit, east on U.S. 11 to U.S. 2 into Vermont after 5 days crossing New York. We followed 2 down a quaint chain of islands in Lake Champlain, and connected to I-89 southward, following U.S. 2 until we hit Montpelier (details below). Then East on 2 almost to the Maine border.
This is a sign that we're getting close to Quebec
--Click to Enlarge--


Quoth Karen: "This is what I thought Vermont ought to look like."
Seen in passing: A little blond girl standing on her daddy's lap steering a big tractor in the fields.
A wooden church with the sign saying: "God's Little Brown Church"

Montpelier: Vermont's State Capitol. A pleasant unintended stop where we got cheap gas ($2.29 after a couple of tanks at $2.47) and did a walk around and a quick tour of the capitol building. Charming town.


Montpelier, Capitol of Vermont
--Click to Enlarge--

The Vermont House of Representatives chamber in the capitol building. Those curly things halfway up the shaft of the chandelier are horses!
--Click to Enlarge--

"Please", it says. It points a 4" muzzle at me and yet feels the need to be polite.
--Click to Enlarge--
Vermont
--Click to Enlarge--

Gorham New Hampshire saga: Bad motel search, good Mr. Pizza.
By 4:00 I was shaky with exhaustion and we stopped at a sugar shack (maple factory and store) in Lancaster, NH in Coos (Coe-oss) County, barely into Hew Hampshire. The owner told us that there was a motel across the highway with WiFi and a great view. They wanted $80, and that just seemed a bit high. We plodded on to Gorham. Gorham had neither the charm nor the view of Lancaster, and most of the motel rooms for under $100 were booked (and none had internet). We wasted an hour in that town trying to find a room, and decided to continue east on US 2.
(Gorham's claim to fame is being the nearest town to Mt. Washington, the highest in the East at 6,288')
After half an hour, we spotted a small sign buried in trees on a hillside: Gateway Motel, $34 and up. Fast braking, U-turn, and it was good.


A sign from back when they bothered to design signs. We like the old motels.
--Click to Enlarge--
Between the birch grove and the Motel stands but one car. Apparently, we are the only ones who like the old motels.
--Click to Enlarge--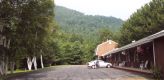 The Gateway Motel on Rt. 2 west of Shelburne, NH, almost to the Maine border. The expatriate Texan/Illinoisan owners and their rescued Greyhound, Shelly greeted us. There are in-room phones, but with only one line to the whole place, so modems are discouraged. WiFi? Ha! They only get 2 channels on their 1970's vintage remote-less T.V's (PBS and TBS). No free breakfast. Do we still want the room? Sure!
There was a stack of National Geographic magazines under the night table. The room had the classic 1950's knotty pine wide-plank wall paneling, a terrazzo shower basin, not-the-low-flow shower nozzle with un-pressure-compensating valves, and incandescent light bulbs in every fixture!
We drove back into (despised) Gorham for a hot meal at Mr. Pizza (we could have gone to a chain, but why?).
We sat in the lounge at a window with a view of the river 20 feet away, drank a good Margarita, and I misguidedly ordered the deep fried tuna sandwich. It turned out to be a standard tuna salad sandwich on a soft bun, battered whole and deep fried. I didn't mind not having my sense of taste so much.