20111006:

Day 7: Into Yellowstone, the hard way

Jackson to Old Faithful, 98 miles took 6 hours driving

I got up with the thought that we have all day to drive the two hours up to the Old Faithful Inn at Yellowstone, the original endpoint and long-reserved destination on this trip. It was still raining pretty hard, and the forecast was for changing to snow, later. I spent an hour or so writing up Day 6, and we packed up. But then we started packing the car, and the rain changed to snowy mix. It was still too wet to consider walking over to a coffee house for a morning latte, and the motel breakfast was weak coffee and packaged sweets. So we packed up everything, and headed out.


Packed up in Jackson as the rain turned to snow.
--Click to Enlarge--


The big, wet snain transfers heat very efficiently. That is, the windshield held to freezing and the cold car had little capability of clearing it. I had to bend way over to peer out through a narrow band of clear at the bottom of the window, and roll down the side windows to see out that way. And we also got a little turned around, so it took us about 15 minutes to drive what would have been a 5 minute walk in dryer weather. But we finally found the Jackson Hole Roasters Coffee House and sculpture garden, and stepped in. Every table was full, and they apparently only had sweets to eat. So we decided to walk to another place listed as a coffee house, The Bunnery. Karen navigated as we walked huddled in the wet, cold mix and tried to stay under porches and awnings as we circled the town square.

There was a short wait outside under partial cover to get a table, but they had real food. I was hungry, so ordered a spinach and cheese croissant with eggs and hash browns. The hash was browned in butter, yummy. And I drank a triple shot latte, of course. The Bunnery had signs promising O.S.M. on the web and by mail order. Check it out.


Enjoyed warm cappuccino and egg croissants at The Bunnery. I got my Droid, my first smart phone, just before leaving on this trip. Here I am playing with its WiFi and FaceBook settings while waiting for our entrees.
--Click to Enlarge--



Karen had noticed a thrift shop across the street, so we had to check there. But first we stopped at the Ripley's museum. Didn't pay to go in, but did browse the gift shop for amusement. As we crossed to the thrift shop, the snow was getting dryer. It was starting to bounce off our clothes rather than to stick. There was a clearance sale at the thrift shop, so I ended up carrying a heavy bag the several blocks back to the car. Karen had an umbrella, but I was carrying the overloaded paper bag in the precipitation. Thus I kept to the parts of streets that had cover, when possible. After dropping the load at the car, I wanted to do a lap around the square in the picturesque and now somewhat drier snow. Karen, who was now tired of scenic snow, reluctantly came along.


Fashion plate. The bag is from a local flea-market shop. My scarf is from the rummage sale in Pella. That hat is from Rapid City, purchased on our last trip to Yellowstone a decade ago.
--Click to Enlarge--
Remember this picture of a downtown Jackson, WY intersection, as I will refer back to it later in another picture of the same intersection. Particularly, note the skyline.
--Click to Enlarge--

Karen keeps the snowflakes off her glasses as she crosses to the entryway of Jackson's central park. Yes, many elk no lnonger toot their own horns.
--Click to Enlarge--


But it was pretty cold as well as pretty pretty. So when Karen suggested more coffee and getting on the road, I happily agreed. We cut through the sculpture garden and filled our cup and bought a scone at the Roasters. Then on the road. Well, the foggy window got better as I got out of town. But there still was limited visibility as we drove the 30 miles up to the park entrance. There they told us that the south entrance to Yellowstone was closed! So we had to drive back down to Jackson and around to the West Gate. (Expletives). We should have called! But aside from needing an hour to get 30 miles, the roads seemed fine to me. Ah, well. Back down to Jackson, with a stop in Moose Junction at the Craig Thomas Visitors Center. We'd have saved an hour of tense driving had we stopped there on the way up.


This is what visibility was like until the car got heated up. That is, pretty much until we got out of Jackson.
--Click to Enlarge--
An hour and a half of driving in this slush we finally see the scenic Welcome to Grand Teton National Park sign. At the gate, shortly after that, we were turned back; Park closed due to weather. We had to go around to Yellowstone's West Gate, over the Teton Pass.
--Click to Enlarge--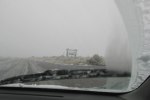 Had I the sense to stop at the Craig Thomas Visitor Center when we headed out of Jackson (instead of to recover just before re-entering Jackson), I could have avoided the previous 2½ hours of driving the round trip before going over the pass into a state I didn't even intend to tag on this trip.
--Click to Enlarge--



So back down to Jackson. We saw something new as we reached the Elk Wildlife Refuge just north of Jackson. Up ahead, there appeared to be a mountain with ski slopes. I figured that this was the ski area to which flocks drove from Jackson. But as we got closer, I realized that the mountain, lifts, and slopes were a walk away from the town square! We'd driven in, spent the night, and driven out and hadn't been able to see a mountain that was right in town!


As we again head south toward Jackson, I see ski slopes for the first time. As I hadn't seen them before in the rainy or snowy sky, I figured that these must be the ones accessible from Jackson. Probably via buses or trams or some such.
--Click to Enlarge--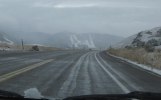 Here is the second shot of the downtown intersection, just to compare. Those slopes are a short walk from downtown! Now I understand why this town is a ski Mecca.
--Click to Enlarge--



Oh, well. The skiing mountain was nearly invisible again as we headed south and west toward the Teton Pass. The signs said "Chain Law In Effect". But we have new tires, and I have driven in snow since the week I learned how to drive, and I was following another car with apparently ordinary tires. It was a 10% grade; that's 4% more then the interstate system allows. And some areas were slushy and/or sandy. But we were lucky in that the weather was nearly dry for the hour we spent crossing up and back down there.


Gassed up, and headed Westward out of Jackson Hole. We ignored the "Chain Rule in Effect" signs as we head into the snowy Tetons
--Click to Enlarge--

Steep twisty roads are even more fun in a mild snow storm
--Click to Enlarge--

I do enjoy watching the clouds, from their own level.
--Click to Enlarge--


We changed drivers once we were out of the mountains. Now on the west side, we couldn't see the Tetons again. We passed quite a few scenic turn-outs, but there was just snowy farmland fading into the snowy mist. The next couple of hours were pretty uneventful. We got gas in West Yellowstone, and then it was my turn to drive into Yellowstone Park. The ranger at the gate said that the road down to Old Faithful was still open. Still? More foreshadowing.


Nothing says Welcome to Idaho like a barrier ready to come crashing down
--Click to Enlarge--
Keeping in mind that Karen had been raving about the splendor of the Tetons for years, and that a full day of driving the scenic route in Wyoming yesterday yielded only pale glimpses of the mountains, I hereby present our view of the majestic Tetons as we drove past them in Teton Valley, ID.
--Click to Enlarge--
I like creative signs. The informative but uninspired sign telling us that we were finally approaching the Yellowstone Back Door is mitigated by the local Frosty Root Beer sign. Unfortunately, 6 hours of driving in snow and slush did not put me in a frosty root beer mood.
--Click to Enlarge--


It was snowing again, and as we climbed into the park, the roads got white and slick. The speed limit was 45, but I rarely topped 35. I did a time lapse of the snowy drive. It was an adventure. But we got there by 6:30, just over 6 hours after we left Jackson for the park.

So I cheated in my title; the actual distance was the sixty mile round trip to the south gate of Teton Nat'l Park plus the hundred and sixty from Jackson, WY via Teton Pass and West Yellowstone, Idaho to Old Faithful = 220 miles in varying severity of snow and crossing 8,431' elevation.


Welcome to Montana. A second state to traverse that was not on our planned route for the trip as of this morning. Not that the speed limit drops to 65 at night.
--Click to Enlarge--
Driving upstream in Yellowstone. I did take a time lapse of this drive; it is scary. They did let us in at the West Gate. Just barely.
--Click to Enlarge--

Finally checked in at the Old Faithful Inn. Original ETA around 1:00 p.m. Actual time of this picture, 7:04 p.m. MDT. All the intervening time was driving the long way around.
--Click to Enlarge--


We arrived quite exhausted and stressed. We were not alone. There was quite a crowd at registration combining those who managed to get in before the roads completely closed and those who couldn't get out, but there is no room at the inn. After checking in and unloading, we'd just missed the last Old Faithful eruption before dark. Oh, well. We have three days here to see it.


So I wander around the inn, while Karen warms by the fire in the lobby of the world's largest log cabin. This Inn was the pinnacle of pure timber and stone construction (finished in 1904), but had to be slightly reinforced with steel after the earthquake of 1959.
--Click to Enlarge--



Side notes:
And this whole thing was originally posted by Android 3G because there is no WiFi here at the Old Faithful Inn. Pix were finally added about a year later!

I finally thought to get a GPS app for my new Droid. This phone reads cell GPS, 3G, and satellite GPS so I can get a true GPS reading of latitude, longitude and elevation within 50', plus velocity, acceleration, compass, orientation/horizon, and even light level. After passing several passes and divides where the signs were either down or illegible, I can now tell how thin the air is.

Karen, who passed some of her adolescence driving from shore to mountains, doesn't feel it. But on my fourth day over a mile up, I still feel the thinness of the air when I exert myself.

You can peruse our previous trip here or the Old Faithful Inn website if you are impatient for some pictures. My visions this time were different.