Left the Westernaire close to 9. Passed through the original Roosevelt Gate, and climbed back up to Mammoth Springs. They were mostly dry. We walked around. Just as we were about to give up on them, we came upon Canary Spring. This one seemed to gush nearly as much as Thermopolis. A swift, sulphurous stream burbled along by the boardwalk. It steamed thickly, and was actively producing new terraces. I savored it for a while, sitting on a bench. Karen wandered around. I joined her at the bottom, and watched the stream encrusting grasses and branches. Fossils being formed. I went back to my bench. When Karen came back up, she'd adopted another couple. From Cody. A mechanic and his wife. We hung out and wandered the rest of the mostly dry springs for an hour.
We shared a Huckleberry ice cream cone as we left the other couple.
We finally moved toward Tower Falls. A long climb down, and back up, with our still sore muscles. Not as impressive as yesterday's Yellowstone Canyon falls.


Another snapshot of a view I liked
--Click to Enlarge--

Moose
--Click to Enlarge--

Moose
--Click to Enlarge--

Moose Hunter
--Click to Enlarge--


Picnic lunch, and out of the Northeast Gate. Winding road, and we finally saw moose. A cow and her yearling cub. We stood on the narrow road and watched them grazing the tall bushes with other moose-seekers.


The quaking aspens are turning autumnal
--Click to Enlarge--

Karen says: The park is so-o big
--Click to Enlarge--


We turned off of twisty, bumpy federal road to a "lesser" state road shortcut toward Cody, the Chief Joseph Scenic Highway (WY 296). The speed limit was 65, and the road was in much better condition than the federal highway. But, we rarely got up to 65. Quite scenic.
Read about Chief Joseph himself, at indians.org or at pbs.org



View from Dead Indian Pass on the Chief Joseph Highway
--Click to Enlarge--

More of Chief Joseph Highway
--Click to Enlarge--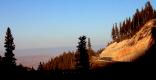 One of many (not included) shots I took of these hills
--Click to Enlarge--


We stopped many times along the Chief Joseph Scenic Highway just to look at the views. Keep in mind that we had passed the "just another gosh darned scenic view" point a week ago. One breathtaking gorge on this route isn't marked on any of our maps. Just a simple bridge leaping across a really steep, deep gorge. W-a-y down. In the late afternoon light, it was hard to see the bottom. It was that deep. Also, coming away from that point, I rarely had to worry about the "slow curve" speed warnings. When I saw (for example) the Loopy arrow and 35, I tried to got the car up to that speed, but usually failed.
We had planned to get to Thermopolis for the night. We settled for Cody at 7. On impulse, we stopped at the Moose Creek Inn, another old one. The bathroom has a terrazzo shower pan, and a 1930's style compact cast-iron sink. They are demolishing this wing of the motel to upgrade it at the end of this month.
We had an excellent steak dinner at the Prime Cut Saloon, a short walk from our hotel.