10/14/03:

Day 6: From Sparwood to Banff, west and up the mountains

Sparwood, BC: Breakfast at the Black Nugget Inn with our friendly, very Canadian waitress, Val. (Eggs Benedict: $7, "special" 2 eggs, ham & potatoes :$3 at about Can $1.30 = USD $1) We were practically alone in the restaurant. I guess everyone else was still recovering from the feast.

Log trucks flow past us down the mountain highway as we eat. The mountain to the left in our view at breakfast is gradually shrinking from the top down. There's coal in them thar hills!

We had been noticing the pretty town signage: Crow's Nest had a 3-D crow and nest with a crowling (crowlet?) , Pincher Creek showed the name with smith's pincers bracketing and threatening it. This is quite different from the U.S. practice of plain signs printed on aluminum panels in standard fonts.

This morning, a thin horizontal fog (cloud?) layer hovered between the mostly yellow trees and the mountains above. I love that sort of thing; layers fascinate me.


Clouds above the river, below the mountains. Fascinating even with the dark hazy morning.
--Click to Enlarge--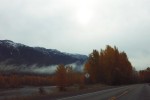 We stopped at Fort Steele, another site that was about to close for the season.
--Click to Enlarge--
The start of the second largest river on the continent
--Click to Enlarge--

I like to reflect on scenery
--Click to Enlarge--



We stopped at the Ft. Steele tourist gold mining town that advertised a 50% trinket discount: Closing for the season. The staff was in period attire for the 1870's gold rush era. The museum entry price dropped to "free" as of this week. They are closing till Halloween after this week, and then again until X-mas time. Another example of barely made it.

We stopped for weak Cappuccino at the ESSO trading post & antique store at the next intersection. They had some great antique tools, but all the ones that I liked were marked, "Not for Sale".



Parking hazard at Radium Hot Springs
--Click to Enlarge--

Coffee Break stop
--Click to Enlarge--

While Karen takes the waters, I caught up on writing and afternoon coffee.
--Click to Enlarge--



I wrote some of the above while sitting at the snack shop over Radium Hot Springs at 1:53 p.m. while Karen got in a soak. I spent 15 minutes trying to sync the Palm on which I'd been taking notes, and decided to give up. The exact sequence I succeeded with last night doesn't work this afternoon. Anyway, I seem to be very tired, with bad internal thermal regulation, and assorted aches and pains. The spectacular views of this morning are only of passing interest. I could be burned out on them, though. (In retrospect, it probably had to do with the altitude). I used the Internet kiosk for the 15 minutes afforded by feeding it a Toonie. Then I ordered a cappuccino and tried again to sync the Palm: Immediate success! I incorporated the notes. As we left Radium Springs we needed gas. We bought it for Can$0.789/L=USD$2.30/gal. This is mountain resort pricing. Last night we saw it for as low as $0.664 ($1.94/gal). Notice that the Canadians use the tenths for something besides a nine (as in .669).

A note I've been meaning to write about the scenery up here: The birch and aspen trees are bright gold. Sometimes there are patches of gold among the dark green of the conifers. Sometimes, carpets of gold run up to, and even up into the mountains.

The mountains rise in tilted bands of gray, brown, and red as god-given refutation to the young-Earth theologians. Within the wide bands, one can see the thin seasonal bands of deposition that resemble tree rings not only in appearance, but in manner of creation and in utility for ageing/dating the strata and the fossils found within.

We decided to press on to Banff, heading up 93 in snow flurries. I decided to stop at the Paint Pots trail near the Vermillion Crossing (Pass). I felt like a little walk in the mountains. Ravens stood in the snowy parking lot, and seemed quite tame. We had a goodly walk uphill along the yellow muddy trail to the source. Unlike the Yellowstone Paint Pots (which are geysers colored by exotic bacteria), this spring was a major source of yellow (and red) ochre (paint pigments) until the Canadian Parks Service closed it to mining in the 1920's. Canada had national parks for almost a half century before the U.S. got the idea. I'd forgotten how much work it is to hike a steep one mile muddy trail at 9,000 feet in the mountains. It also required all of my clothing layers, even though it was only slightly below freezing out there.


This is the smallest suspension bridge I remember seeing.
--Click to Enlarge--

We passed by Yellowstone on our way up here, so it was nice to find sulfurous bubbling paint pots.
--Click to Enlarge--

At Yellowstone, the so-called paint pots are colored by extremophile bacteria, but up here they are actual sources of paint pigments.
--Click to Enlarge--
Heading down from the paint pots along the colorful rivulet, with the shadows rising on white mountains ahead
--Click to Enlarge--



Later, off the side of the road, we saw Stanley Glacier, glinting green in the afternoon light. On to Banff as the shadows climbed the mountain.

Back into Alberta, Canada

We pulled into Banff at about 6:00, dusk. We parked and proceeded to walk all over town, quite literally, seeking a hotel that was both affordable and comfortable. As we headed out to the far outskirts (the 500 block), we walked past the Banff Avenue Inn, a tiny place that seemed to call to me. We checked it out, and then proceeded to the AAA recommended place way out there, our original goal. That one was too smoky and lounge-lizard-esque.

At the Banff Avenue Inn, we have a room with a view, a fireplace, and a Jacuzzi (brand) whirlpool tub for Canadian $59 a night! This place is not only nice, but it is the lowest rate we've found in town. We'd walked past busloads of Japanese tourists checking in to one of the $300 (off season rate, mind you) places. Actually, the Best Western (only $120) is across the street, and I'd bet doesn't have the in-room amenities. We took a break from our 400-500 mile per day regimen and actually "camped" here for another night. One unexpected perk: There is an unguarded WiFi port nearby. I am sporadically able to get email wirelessly via someone's connection.


It was dusking as we pulled into Banff. I was fascinated by this residential observatory dome.
--Click to Enlarge--

Karen does some reading before dinner in our cozy room.
--Click to Enlarge--


We walked into town to dine. It was a pleasant walk on a cool evening in this mountain town. But to avoid the cold, we cut through several buildings. The interior halls were lined with (closed) shops. It was quite reminiscent of my walks last month through the little malls off of the KuDam in Berlin. We got to Melissa's Missteak and had Filet Mignon, grilled trout, and Bumbleberry pie. Then back to the room where I sat in front of the fire and jotted notes on my laptop.
of the other vistas we've been driving through. It was also too cold for us to stand and admire for long, even with all of our thermal layers on. The lake was liquid, but any puddles were ice. The centerpiece mountain was white almost down to the water. Winter is here.

Once we finally found the International Youth Hostel, the atmosphere was nice and the food excellent. Service was quite slow. We had come during that unfortunate lull between the local hunters having lunch and the touring hikers coming back for tea. It took about 2 hours before we were done, so we decided not to drive on up to Jasper, but rather to return to Banff, rest up, and do the glaciers tomorrow. It turned out to be a lot of driving to see not much. I did get a shot of the game bridges across the Maple Leaf highway, though.

We went for a night-time walk around the (closed) Cave and Basin hot springs park, and saw the Banff "falls" by twilight. The falls are a middling size set of rapids with a few meters drop overall.

The castle above the river was quite enchanting from across the river, the hundreds of windows twinkling in the twilight. It's name changes regularly with ownership, but it has a history going back to the original shack used by railroad workers when they ran the rails up here in the 1880's. We were too pooped to actually visit it.